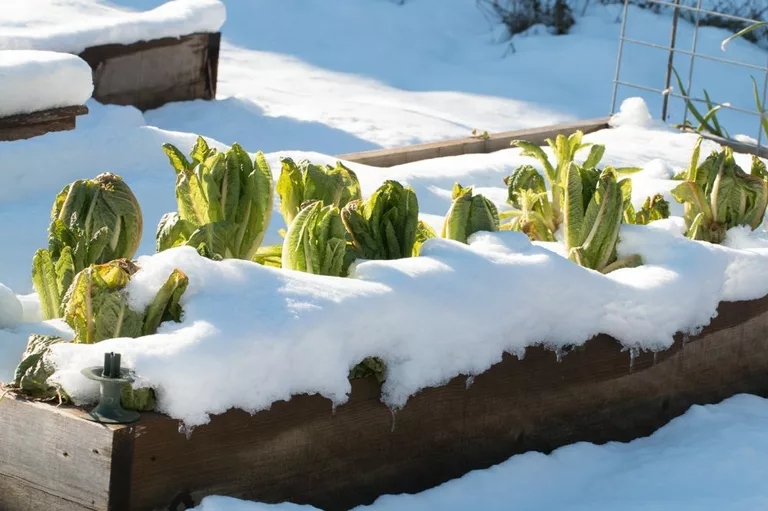 December 05, 2017
It was so sunny and warm today that I felt like planting lettuce. I've got a clean raised bed in the greenhouse that's just begging to grow something. I even dragged two furrows 10" apart in it because it looks better that way than flat. I checked my garden journal and discovered that I'll be planting lettuce indoors on January 1st to be transplanted into the garden in February so I'll start them now to transplant into the greenhouse in January. The planting bug got started in me early this year because we were at my son's for Thanksgiving and he had two flats of cilantro started on his back deck..
I asked what he was going to do when it got cold and he said "Move 'em in". Well no duh I guess I could do that too. Been wanting to plant ever since and remembered I've got lettuce seeds left..
December 06, 2017
December 6th is a crazy time to be harvesting cauliflower but I picked the last three heads today. I also got a bowl full of Bloomsdale spinach and a batch of Brussels sprouts. It's been like spring time here and the Perpetual Spinach in the greenhouse is putting out small dark green leaves. The new Swiss chard is ready to pick and I haven't even needed to put the mini greenhouses over them..
I added broccoli, cauliflower, spinach and cabbage seeds to my Christmas list because I'll be starting them January 1st indoors on a seed starting mat. Seed starting mix is on the list too..
December 07, 2017
It got down to 20° last night and nothing in the garden got damaged. The kale wilted a little but nothing else was affected. The broccoli might have gone dormant. If it had formed heads they would have frozen. I'm glad I got the cauliflower picked or those heads would have frozen too. Maybe the broccoli can overwinter now. Its interesting how plants can produce antifreeze..
These crops now have a different chemical composition than the spring ones. Having cabbage moth caterpillars eating them also made their chemistry change. They produced a bitter toxin in response.The cold nights increased their sugar content too. Who would have thought that antifreeze, insecticides and sugar could be considered healthy food..