AVR Programming Guides
We have some nice AVR code samples to share. Lots of AVR goodies like timers, interrupts, and pin I/O for the beginner.
Watts Tables
Use these tables to help you determine how much various items in your house cost you by the day, month, and year.
Saving Electricity
A list of a variety of ways to help you save money by learning how much it costs to run things.
Read Your Power Meter
By reading your power meter you can get a good idea of how much various electrical devices cost you.
Insteon CPU Traces
Here are some pictures of the traces surrounding the PIC 16F648A CPU inside an Insteon module. Hopefully this will help others to make some nice hardware mods. Click on the image for a higher resolution copy.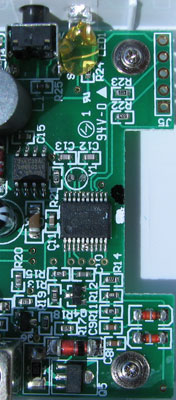 It would be nice to get documentation of where all the traces go to from the CPU. If there is anybody who is experienced with Microchip PIC and wants to spend the time tracing this thing out, head to the forum and lets talk.
UPDATE: We have now traced the connections to J5. Go here for more info.